---
Philadelphia's PCC Streetcars
---
In the late 1970s, Philadelphia's fleet of PCC cars was the second largest in the western hemisphere, with 300 PCC trolleys remaining -- only Toronto Ontario had more trolleys. Philadelphia's fleet was comprised of two main classes: 102 prewar "air cars" built between 1940 and 1942, and 198 postwar "all-electrics" built in 1946 - 1948.

The streetcars operated from three depots over twelve routes, spread over most of the city. Five car lines ran on city streets and through a trolley subway under University City and Center City; the remaining seven ran entirely in city streets in traditional streetcar fashion.

(For more on where the cars ran, consult the Philadelphia Trolley Routes: By The Numbers page on this site.)


Much of the system has been paved over since then.

Today, the five routes that operate through the Subway Surface tunnel and in southwest Philadelphia are equipped with Japanese-built Light Rail Vehicles. Of the six North Philadelphia lines, only one, the Route 15 Girard Avenue, has been restored to streetcar service.

Until 1992, rebuilt postwar PCCs remained in revenue service on three lines, the 15, 23, and 56. PCC cars on these last three lines were "temporarily" replaced by diesel buses in September of that year, with most of the PCCs sold to transit operations and museums all over the country. The tracks and wires remain in place however, with both City Council and the mayor's office opposed to their removal (see City Council hearing article). SEPTA has restored service on oute 15, but has no plans to bring trolleys back to Routes 23 and 56. Portions of both Route 23 and Route 56 have been paved over.
Here's the time-line, in summary:
September 1992: Routes 15, 23, and 56 become "temporary" diesel bus lines. Most of the PCCs are sold.
December 1995: SEPTA ends "Welcome Line" trolley service, which connected Center City with the Philadelphia Zoo.
June 1996: SEPTA discontinues"Chestnut Hill Trolley" weekend-only service on the northern end of Route 23.
September 1997: SEPTA announces plans to re-instate trolley service on the suspended Route 15.
November 2001: The SEPTA board votes to approve the remanufacture of 18 to 26 postwar PCCs for Route 15 service.
September 2005: Rebuilt PCC cars restore Route 15 trolley service to Girard Avenue.
2008: PennDOT built new Route 23 tracks and wires in Mt. Airy, while at the same time SEPTA removes rail on Route 23 in South Philadelphia.
During the late 1990s, between Thanksgiving and New Years, SEPTA operated three PCC cars through Center City and South Philadelphia over the idled Route 23 rails. Called the "Holiday Trolley," the PCCs operated four days a week on a twenty-minute headway, with some trips extending as far south as Snyder Avenue.
During the 2001 holiday season, with Center City inaccessible due to track reconstruction on Girard Avenue, SEPTA operated the Holiday Trolley in University City. Two PCC cars ran over the diversion tracks from 40th and Market Street to 49th and Woodland Avenue. The PCCs were run every 20 minutes from 11:00 a.m. to 5:00 p.m., Thursdays through Sundays until December 23.
SEPTA's recent removal of rail at 12th & Bainbridge Streets takes away any chance of trolley operation through Center City for the foreseeable future.
---
Click here to see an all-time roster of Philadelphia PCCs.
Click here to see Philadelphia trolley map.
You may click on any photo to view a high-resolution image.
Click on the PTC trolley image at the top of the page to see how that graphic was made.


---
All-Electrics
---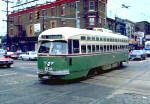 This is the streetcar most Philadelphians recognize as the Philadelphia trolley. This body style, with its row of small "standee windows" along the top, was designed in 1945. The laid back windshield was designed to minimize reflections from the well-lit interior that might distract the motorman. Eighty-five trolleys of this series entered service in May 1947 on the Route 23; fifteen more went to Route 42 on Chestnut Street.
PCC northbound on Germantown Ave. at Erie, July 13, 1977. photo © Mike Szilagyi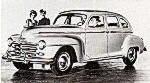 With auto production suspended during World War Two, 1945 model autos were in fact pre-war design sheet metal with revised trim. It was not until 1949 that really new automobiles were available. Compare the lines of this 1946-48 Plymouth with the PCC car built during those years.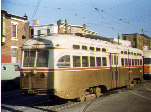 SEPTA experimented with a new gold paint scheme, similar to that applied to its GMC and Flxible diesel buses, in the early 1970's. Air conditioning, turn signals, and new marker lights were also tried on a handful of cars. Another PCC was briefly painted yellow; yet another was painted powder blue.
1948 PCC 2165 being towed on Greenway Avenue, behind Woodland Depot, December 31, 1976. photo © Mike Szilagyi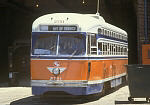 This orange, white and blue livery was eventually chosen for the trolley fleet in the 1970's. This paint design has come to be known as the Gulf Oil colors. The outlines of this paint scheme harmonized with the classic lines of the streetcars, which is more than can be said for the SEPTA bus paint which was later applied to these trolleys.
1947 PCC 2751 at Luzerne Depot, Wednesday July 5, 1978. photo © Mike Szilagyi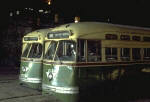 Not all PCCs made it through the paint shops during those years. Body work and mechanical repairs slipped drastically by the late 1970's. The rugged design of these cars made them more reliable under these adverse conditions than some of the newer diesel buses SEPTA operated at the time, especially the Flxibles.
Postwar cars await assignment at Woodland Depot. December 1977 photo © Mike Szilagyi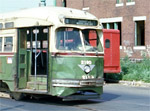 It can be argued that the appalling condition of the PCC fleet simply mirrored their environment. The dwelling to the right of the streetcar, on the 4900 block of Greenway Avenue, is in the process of collapse. Overhauled in 1986, 2160 served as a work car. In 2005 it was sold to Baltimore Streetcar Museum.
2160 on Greeway Avenue at Woodland Depot. June 16, 1977 photo © Mike Szilagyi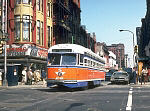 It's hard to imagine that eighty-five new trolleys were required to equip just one line: the Route 23. Stretching from Chestnut Hill, through North Philadelphia, Center City, to South Philly just above the Stadium complex, this was the longest streetcar line in the world. Those original PCC cars served the line regularly until 1976, when older PCCs were mixed in along with 2700s. All PCC service ended on Route 23 in 1992. The Center City Marriott hotel now occupies this corner of 12th and Market Streets.
1947 PCC 2726 at 12th & Market, April 21, 1979. Photo © Mike Szilagyi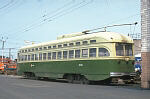 Two all-electric, and several air-electric PCCs received a simplified green and cream paint scheme by 1979. This paint scheme was the same one applied to the older, standard streetcars before they were scrapped in the 1950's. In those days, the repainted old trolleys became known as paintliners, and the name seemed to fit these PCCs too.
1947 PCC 2743 at Courtland Shops, June 30, 1979. Photo © Mike Szilagyi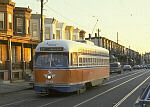 The last sunlight of a late December afternoon in 1978 finds 1947 PCC 2744 returning to Luzerne Depot after a day on Route 23. Returning to this spot today would find the rail and wire still in place, though there hasn't been trolley service in years. Luzerne Depot (just out of the frame to the right) is today occupied by a cardboard recycling company, and many of the classic Philadelphia row houses (still maintained in this photo) have fallen on hard times. PCC 2744 was not included in the GOH rehabilitation project.
1947 PCC 2744 on 10th St at Luzerne Depot, December 16, 1978. Photo © Mike Szilagyi


---
Some postwar cars did survive for a time, and a handful continued to run in Philadelphia on special occasions into the 21st century. Here an original Route 23 car, 2728, rolls southbound on 12th Street, approaching Vine Street during the 1996 revival of the Center City Welcome Line, or Holiday Trolley.
Click here, or on the photo at right, for more info on the Philadelphia PCCs that (briefly) outlasted the others.
1947 PCC 2728 on 12th St near Vine St, December 1996. Photo © Mike Szilagyi

---


Return to Philadelphia Trolley Tracks.