---
Philadelphia's PCC Streetcars
---
In the late 1970s, Philadelphia's fleet of PCC cars was the second largest in the western hemisphere, with 300 PCC trolleys remaining -- only Toronto Ontario had more trolleys. Philadelphia's fleet was comprised of two main classes: 102 prewar "air cars" built between 1940 and 1942, and 198 postwar "all-electrics" built in 1946 - 1948.
The streetcars operated from three depots over twelve routes, spread over most of the city. Five car lines ran on city streets and through a trolley subway under University City and Center City; the remaining seven ran entirely in city streets in traditional streetcar fashion.
(For more on where the cars ran, consult the Philadelphia Trolley Routes: By The Numbers page on this site.)


Much of the system has been paved over since then.
Today, the five routes that operate through the Subway Surface tunnel and in southwest Philadelphia are equipped with Japanese-built Light Rail Vehicles. Of the six North Philadelphia lines, only one, the Route 15 Girard Avenue, has been restored to streetcar service.
Until 1992, rebuilt postwar PCCs remained in revenue service on three lines, the 15, 23, and 56. PCC cars on these last three lines were "temporarily" replaced by diesel buses in September of that year, and most of the PCCs sold to transit operations and museums all over the country. The tracks and wires remain in place however, with both City Council and the mayor's office opposed to their removal (see City Council hearing article). SEPTA has restored service on Route 15, but has no plans to bring trolleys back to Routes 23 and 56. Portions of both Route 23 and Route 56 have been paved over.
Here's the time-line, in summary:
September 1992: Routes 15, 23, and 56 become "temporary" diesel bus lines. Most of the PCCs are sold.
December 1995: SEPTA ends "Welcome Line" trolley service, which connected Center City with the Philadelphia Zoo.
June 1996: SEPTA discontinues"Chestnut Hill Trolley" weekend-only service on the northern end of Route 23.
September 1997: SEPTA announces plans to re-instate trolley service on the suspended Route 15.
November 2001: The SEPTA board votes to approve the remanufacture of 18 to 26 postwar PCCs for Route 15 service.
September 2005: Rebuilt PCC cars restore Route 15 trolley service to Girard Avenue.
2008: PennDOT built new Route 23 tracks and wires in Mt. Airy, while at the same time SEPTA removes rail on Route 23 in South Philadelphia.
During the late 1990s, between Thanksgiving and New Years, SEPTA operated three PCC cars through Center City and South Philadelphia over the idled Route 23 rails. Called the "Holiday Trolley," the PCCs operated four days a week on a twenty-minute headway, with some trips extending as far south as Snyder Avenue.
During the 2001 holiday season, with Center City inaccessible due to track reconstruction on Girard Avenue, SEPTA operated the Holiday Trolley in University City. Two PCC cars ran over the diversion tracks from 40th and Market Street to 49th and Woodland Avenue. The PCCs were run every 20 minutes from 11:00 a.m. to 5:00 p.m., Thursdays through Sundays until December 23.
SEPTA's recent removal of rail at 12th & Bainbridge Streets takes away any chance of trolley operation through Center City for the foreseeable future.
---
Click here to see an all-time roster of Philadelphia PCCs.
Click here to see Philadelphia trolley map.
You may click on any photo to view a high-resolution image.
Click on the PTC trolley image at the top of the page to see how that graphic was made.


---
Air Cars
---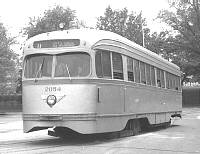 Here's an example of the first generation, prewar PCC car. When the design of the prewar PCC was completed in 1935, its all-welded, steel carbody was a beautiful example of streamlined style. When retired by SEPTA in 1982, these were the oldest PCCs in service in North America. PCC 2054 was built in 1940 by the St. Louis Car Co. One of only two "air cars" remaining in Philadelphia, today it is stored at Luzerne Depot.
PCC 2054 photographed at the 40th St. portal in May 1981. photo © Mike Szilagyi



To place the PCC carbody design in context, compare it to the statement made by the radically streamlined Chrysler and DeSoto Airflow automobiles unvieled in 1934. Chrysler's design was actually years ahead of its time, and slow sales forced a return to more conservative sheet metal by 1938.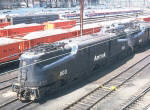 Also designed around this time was the sleek GG1 electric locomotive of the Pennsylvania Railroad. Built between 1934 and 1943, these 475,000 pound monsters were rated at 4620 horsepower. Capable of 100 mph, they also lasted into the 1980's.
GG1 900 at 30th Street Station on April 29, 1979. photo © Mike Szilagyi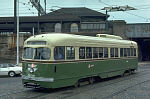 Wayne Junction was a three-way crossroads of traction with the route 23 streetcar, route 75 trackless trolley and ex-Reading electric commuter service at that location. Here is PCC 2617 southbound on Germantown Avenue, with the specialwork for the route 75 trackless trolley visible overhead. The PCCs built during World War II omitted the metal fluting that ran along the car sides above the windows, where those lines converged at the front and rear of the cars.
1942 PCC 2617 photographed on July 13, 1977. photo © Mike Szilagyi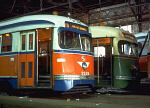 New paint could not disguise the fact that these cars belonged to another era. Here two air cars await assignment in the ancient Woodland Depot, at 49th and Woodland Avenue in Southwest Philadelphia. These trolleys, which arrived in Philadelphia in 1940, '41, and '42, were more elegantly streamlined than the streetcars that arrived in 1947 and '48.
1940 PCC 2526 photographed on June 30, 1979. photo © Mike Szilagyi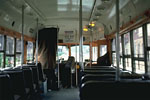 The air car PCC interiors differed markedly from the postwar cars. Larger windows let in more light and allowed a better view for passengers. The ceiling had a raised center section, and the roofs were originally pressed-board over steel framing, with a canvas cover. The canvas roofs on these cars were later replaced with sheet metal.
Inside 1940 PCC 2513, northbound on 10th St. near Luzerne Depot on July 13, 1977. photo © Mike Szilagyi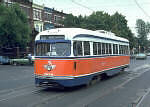 PCC 2054 was repainted in its original silver and blue livery in 1978, in commemoration of forty years of PCC operation in Philadelphia (see larger photo at top of page). The photo at left shows the 2054 before it was repainted silver, still wearing the orange white and blue "Gulf Oil" paint of the 1970's. It's shown here westbound on Erie Avenue on the Route 53, the first route to be equipped with PCCs. Route 53 served the fashionable neighborhoods along Wayne Avenue until that line expired in the mid-1980's.
PCC 2054 photographed on July 13, 1977. photo © Mike Szilagyi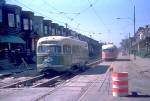 In 1977, the track on 10th Street was replaced, from Erie Avenue to Luzerne Depot. These air cars entered service during World War II and by the time they were retired, had carried Philadelphians for four decades. See the classified ad below.
1942 PCCs 2617 and 2629 pass on 10th St. near Luzerne Depot on May 8, 1977. photo © Mike Szilagyi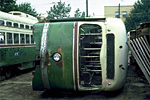 The PCC fleet remained largely intact into the 1970's, well past the 1968 sale of PTC to SEPTA. The air cars were the hardest to maintain, with spare parts for their air brake systems impossible to acquire. Parts had to be obtained second-hand from other transit systems (such as Boston) or custom made in the SEPTA shops. By the late seventies, more than half the air cars were gone. Cars such as 1940 PCC 2063 were overturned at Germantown Depot to facilitate cannibalizing its parts.
July 13, 1977 photo © Mike Szilagyi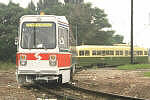 1981 marked the end of an era with the arrival of 112 new Kawasaki LRVs. Here, no. 9001 has just been delivered by truck to the Route 36 loop in Southwest Phila. Unlike the LRVs built by nearby Boeing Vertol for Boston and San Francisco, these Kawasaki LRVs were well designed, and, twenty years later, still provide excellent service on the five subway-surface lines. The prewar PCCs (like the one in the background) were sent to Luzerne Depot or scrapped as soon as the boxy "K-cars" were placed in service. For more on the last days of the air cars, see below.
June 1981 Photo © Mike Szilagyi


The following classified ad appeared in the January 1982 issue of Trains magazine:
The Southeastern Pennsylvania Transportation Authority (SEPTA) will sell certain "as is" surplus equipment generally described as "air-electric PCC-type streetcars," during the first quarter of 1982. All equipment will be sold by means of the sealed bid process, "as is, where is." With no warranty of merchantability or fitness nor any other warranty express or implied except for warranty of title, FOB, Philadelphia, Pa. Responsible transportation firms or responsible legitimate historical organizations interested in acquiring any number of these vehicles should reply in writing to the following office no later than the close of business, January 8, 1982. Please note that SEPTA makes no representation as to the condition of the equipment and that purchaser has the sole obligation to make full inspection of each item of equipment prior to sale, and to make his own determination as to the equipment's condition. Southeastern Pennsylvania Transportation Authority, 200 W. Wyoming Ave., Philadelphia, PA 19140 USA. Att: Earl A. Johnston, Jr., Purchasing Dept., Contracts Section. If there are any questions with regard to this equipment Mr. Johnston may be reached at (215) 456-xxxx.
David Horwitz, longtime Philadelphian and historian, has this to say about the air cars' last days:
"The air cars were surplus - as defined by management by the picking of the fall of 1982.

"As pointed out by ecasey, six (6) air cars survived as operable cars into the first week of the January 1983 picking. They were the reserve fleet in case wildcats were needed on the Route 23. [General Manager David] Gunn had already decided that the railroad unions would simply have to eat a strike in order to bring their wages down to the level of transit workers. The strike lasted 108 days; but by the second week of the picking, it was clear that no stampede onto the 23 car was going to occur.

"So, unless someone can come up with car assignments or something in writing, all we know is that one of these cars was the last air car to operate in revenue service in Philadelphia in January 1983:

2571
2612
2636
2647
2653
2662"


(emphasis by the editor)
All but two of the air cars were cut up at a Port Richmond scrap yard. The current status of the last two Philadelphia air cars is as follows:
1940 PCC 2054, still in its 40th anniversary silver paint, 2054 is stored out of service and out in the elements, at the Midvale bus depot.
Update: 2054 is stored INDOORS at the Electric City Trolley Museum in Scranton, Pennsylvania.


1942 PCC 2647 was stored off rails behind Germantown Depot until 2005, when it was bought by Jan Lorenzen. Jan provides this update [April 23, 2007]: 2647 is "under cover for preservation at BSM [Baltimore Streetcar Museum]. I've recently bought a $1200 custom made 'pro'cover for it, and intend to get some metal work done to it in the next couple weeks."
Update summer 2103: 2647, after spending years outdoors at SEPTA's Germantown Depot, was found to be too far-gone for a cosmetic restoration. Despite the valiant efforts of Jan Lorenzen, the huge outlay of funds that would have been required to reconstruct the car were not forthcoming. The car is being cut up for scrap.

---


Return to the main menu.