Philadelphia Trolley Tracks:
SEPTA Frontier paint on Schuylkill Valley Lines bus
Just as the Schuylkill Valley Transit Company did half a century earlier, SEPTA applied a bold paint scheme to old equipment in an effort to increase visibility and ridership. Here an old-look GM coach wears the new paint scheme of Frontier Division. No other coaches were so painted. Actually this coach is not as old as it looked; GM built coaches based on this 1940 design through the 1960's. An all-time roster of these short "last of the old-looks" is available at
The Ohio Museum of Transportation.
This particular coach was built in 1964 for Burlington (Vermont) Rapid Transit Co., and was acquired by the Schuylkill Valley Lines in 1966.
Ex-BRTCo. ex-Schuylkill Valley 1964 GM TDH3501 at Frontier Division depot on Trooper Road, West. Norriton Township

May 27, 1977 photo by Mike Szilagyi

Return to Schuylkill Valley Transit article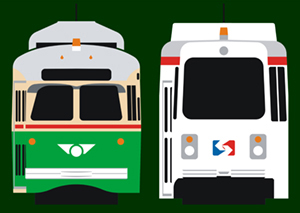 Return to Philadelphia Trolley Tracks main page.