Philadelphia Trolley Tracks:
Schuylkill Valley Lines bus

The descendent of SVT, the Schuylkill Valley Lines, operated buses in and around Norristown until bought out by the regional transit authority, SEPTA, in the mid-1970's. SEPTA inherited a small fleet of short "old look" GM buses from the Schuylkill Valley Lines, and continued to operate them into the early 80's, alongside ex-Red Arrow Lines buses. The rollsign in this photo shows that the new 90-series routes are in use, and a SEPTA Frontier decal has been slapped on the side of the coach, above the front wheel.
Ex-Schuylkill Valley 784 on Swede Street in front of the Montgomery County Court House

June 16, 1977 photo by Mike Szilagyi

Return to Schuylkill Valley Transit article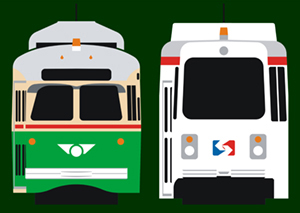 Return to Philadelphia Trolley Tracks main page.