Philadelphia Trolley Tracks:
Schuylkill Valley trolley in Trooper
A sunny Saturday morning in the spring of 1932 finds Schuylkill Valley no. 119 headed eastbound on Ridge Pike in Trooper, PA, returning from Collegeville. The 1902 Brill suburban car is signed for Main & Ford Streets. This location is just west of the intersection of Ridge Pike and Park Avenue. When this photo was made, suburban sprawl hadn't yet reached Lower Providence Township. Ridge Pike was a two-lane highway through mostly undeveloped countryside. See photo at left for this location today.
Schuylkill Valley Traction Co. 1903-built Brill no. 119 eastbound on Ridge Pike in Trooper.


bottom photo by Mike Szilagyi, April 27, 2013; top photo by William Watts II, May 14, 1932

Return to Schuylkill Valley Transit article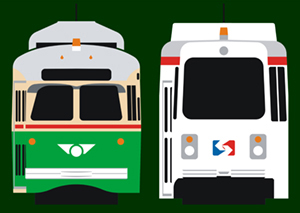 Return to Philadelphia Trolley Tracks main page.