Philadelphia's PCCs: "a Cycle of Unsafety"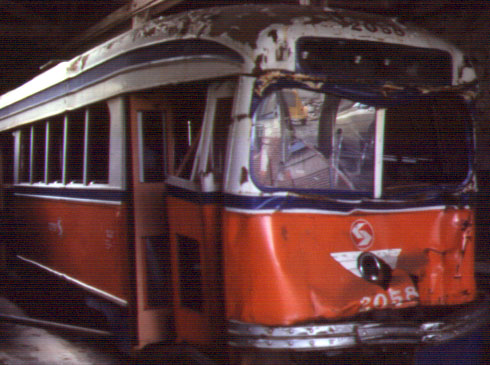 1940 PCC 2058 after 4-trolley collision in subway-surface tunnel on June 26, 1975.
2058 lost its brakes eastbound at 19th St. station. It struck 2188 which in turn struck 2132, pushing it into 2125.
Thanks to Rev. Ed Casey for details about the collision. July 13, 1977 photo by Mike Szilagyi
As much as Philadelphia's trolleys were beloved of many Philadelphians -- myself included -- by the late 1970's SEPTA's "deferred maintenance" of those trolleys had taken a toll on their reliability and safety. The average, everyday rider, dependent on the trolleys to get to work, were often less than enthusiastic about them. Accidents and breakdowns attracted a fair amount of bad press, both in print and on local TV news. To wit:
---
AGING TROLLEYS: WEAKEST LINK IN A WORN CHAIN
PHILADELPHIA INQUIRER
Monday, April 20, 1981
Page: 1A
Edition: MA
by Fredric N. Tulsky
Every Philadelphia trolley has three braking systems to prevent a runaway.
And if all of them fail - well, then there are the seat cushions.
It was a crisp autumn day in 1979 when Ken Tomczuk, a young motorman, had to use the fourth brake system - the well-placed seat cushion. His 36,000-pound trolley was lumbering out of control down Wayne Avenue in Germantown.
He tried the electric brakes. Nothing. He used the track brakes. Still nothing. He used the electromagnetic rail brakes. Again, nothing.
Tomczuk opened the trolley doors, grabbed a passenger seat cushion and, hanging out the door, tried to throw it under the wheels to jam them.
"A passenger looked at me like I was crazy," Tomczuk said. "But then he started handing me the seats, and I kept throwing them until I got one caught. Fortunately, it brought the trolley to a stop."
On such ingenuity does safety often depend at the Southeastern Pennsylvania Transportation Authority.
SEPTA's 260 trolleys alone had more than 1,400 accidents last year [1980], none of them fatal.
Indeed, the entire transit system confronts a cycle of unsafety: Declining ridership and rising costs leave less money for maintenance. Less money for maintenance means fewer reliable trolleys, buses, subway-surface vehicles and commuter rail cars. This means poorer service and more danger to passengers, causing ridership to decline, leaving less money for maintenance
Nowhere is the cycle of unsafety more evident than on the trolley routes, where breakdowns occur, on the average, once every 500 miles.
Whether a derelict trolley is safe enough to go in service is up to no one but SEPTA. Under current Pennsylvania law a trolley is not a "motor vehicle" and thus is not subject to the kinds of standards governing buses or cars or motorbikes:
A trolley driver needs no license of any kind.
No agency of the federal, state or local government imposes safety standards on the operation of trolleys.
There is no requirement, other than SEPTA's own, that a trolley have a functioning bell -- or braking system.
"It's an unbelievable situation," said state Rep. John F. White (D., Phila.), a member of a special legislative committee that investigated SEPTA in 1979 and 1980.
It is so unbelievable that when the committee called on the Pennsylvania Department of Transportation more than a year ago to come up with standards, PennDOT turned for guidance to the very organization that has more than three trolley accidents in an average day - to SEPTA. State officials explained that SEPTA had the only people with expertise in trolley standards.
Preliminary regulations have been prepared and are being reviewed, a PennDOT spokeswoman said last month. "When you talk about a tentative date for imposing regulations," she said, "we are thinking of possibly late August or early September. But understand, that is only what we are shooting for."
The inspection of trolleys, officials say, most likely would be done by SEPTA workers themselves, with state police supervising.
No one - not the Transport Workers union, not SEPTA management - seemed unduly surprised by the sort of misfortune that befell motorman Tomczuk on Route 53 only one day after he had to throw seat cushions under his vehicle that halt it.
On that Friday evening, Oct. 26, 1979, the union representing SEPTA drivers and mechanics, Transport Workers Local 234, conducted one of its occasional safety checks of vehicles leaving the Luzerne Depot, 10th and Luzerne Streets. They found a number of trolleys on which the sandbox system did not function.
The sandbox is an integral part of SEPTA's fail-safe trolley brakes. A motorman can either stomp on the emergency brake or pull a toggle to activate a mechanism that sprays sand from the undercarriage onto the track - increasing traction to help slow the trolley.
Operators say the sandbox is most needed during the fall months, when falling leaves drop on the track. If the sandbox does not function, the risk of collision increases.
One of the trolleys with a malfunctioning sandbox that day was Trolley No. 2582. But SEPTA does not define the sandbox as one of the vital systems that, when not working properly, allows the operator to reject the vehicle. Ken Tomczuk was told to take the trolley out.
No. 2582 carried about 15 riders as it headed south down Wayne Avenue that morning. Fresh leaves from the trees glistened on the rails as Tomczuk tried to stop the vehicle at Queen Lane for a passenger. He put on the electric brake. The trolley slid. He used the track brake. The trolley slid. He tried the electromagnetic rail brakes. The trolley slid. He knew that the sander did not work.
Ringing the trolley's gong, Tomczuk warned a woman at the front of the car to hang on. Then he spotted a SEPTA bus pulling across Manheim Street in front of him. There was no time for heroics with seat cushions this time, but Tomczuk calculated that the bus would pass in front of him just before his trolley swept across the intersection.
Suddenly, though, the bus stopped for traffic. Trolley No. 2582 rolled into the rear of the Route XH bus, loaded with passengers. The collision was enough to lift the front of the trolley off the tracks; 21 trolley and bus passengers were sent to the hospital, one of them unconscious.
While the number of people hurt in that collision is much higher than the number hurt, on the average, in SEPTA accidents, little else is unique about that accident. SEPTA trolleys were in 1,467 passenger and traffic accidents in the first 11 months of 1980, authority records show. And a review of Common Pleas Court files for four months of 1979 shows repeated cases of accidents attributed to equipment failure.
Two Route 15 trolleys collided June 1, 1979, on Richmond Street between Somerset and Cambria Streets. Betty Parker, operator of Trolley No. 2094, one of the vehicles, described in a report what had happened: "I noticed a trolley up ahead, about a half-block. Applied brakes. The trolley w I released the brakes and several times. Trolley just failed to stop."
Marie Holman suffered back injuries March 21, 1979, when a Route 23 trolley, No. 2042, a 1941 relic, slammed into her car, which she had stopped on Germantown Avenue between Pike and Kerbaugh Streets to let out a passenger. "Sudden brake failure on the trolley prevented the operator from stopping," SEPTA's attorney said in court papers.
Six days before Tomczuk's accident, operator Connie Taylor was headed down Wayne Avenue along Route 53. After stopping at Johnson Street, at the top of a hill, Taylor lost all braking ability on a rail wet with condensation and leaves. The trolley barreled into a car at Lincoln Drive, knocking the driver unconscious and totaling the car. A SEPTA investigation later showed that the trolley had a motor problem that caused a failure on the main braking system.
There was, too, the sunny, clear April morning in 1979 when John Valentine boarded a Route 50 trolley at Seventh Street and Snyder Avenue.
Valentine, who is retired, sat in the front seat across the aisle from the operator, Michael Arliga.
In a statement provided to SEPTA officials, Valentine described what happened next: "The trolley took off fast. As the trolley was crossing Sixth Street I asked the motorman if he was going too fast. The motorman answered that he could not stop. That's when I noticed the motorman pumping the brake pedal, trying to stop the trolley."
Within moments the trolley, which was headed east on Snyder, smashed into a 1973 Plymouth that was stopped at the corner of Snyder Avenue and Fifth Street, where Willie J. Edwards, a construction owner, was picking up a passenger. Edwards was taken to the hospital with a back injury. Trolley riders also were injured.
The National Transportation Safety Board made a modest proposal a few months ago. The federal agency suggested that transit officials report all accidents in the nation that involve rail vehicles.
SEPTA officials demurred, protesting to the safety board that SEPTA should have to report only those accidents that occur in transit tunnels.
"If we had to report every accident a trolley was in," said Richard Fasy, SEPTA's safety systems director, "we would have to hire someone full-time just to report to them."
Among the reasons that accidents occur on SEPTA trolleys is the malfunctioning of its fleet of poorly maintained vehicles. Court records support the contention of trolley drivers that brakes, controls and other vital systems often malfunction on Philadelphia's streets.
Senior SEPTA officials concede that trolleys, after years of deterioration, are in deplorable condition. Electrical systems that control the operation of the trolleys are tangled in decayed mazes of ancient wiring. Spare parts for the trolleys, manufactured in the 1940s, often no longer exist; their molds were discarded years ago by manufacturers.
Morale among maintenance workers is abysmal, in part because of the working conditions in the shops. The Luzerne Depot, for example, was built in 1892 [actually, 1913 - Ed.]. It is poorly designed, poorly lit and there is the constant parts shortage. When SEPTA ordered it cleaned last year, truckloads of garbage, accumulated over years, were hauled out of the work areas.
In most of America, the trolley belongs to a bygone era. Philadelphia is the only city in America that still makes such extensive use of trolleys: 85 1/2 total miles of track, 22 million riders a year. Much of SEPTA's collection of vehicles is an odd assortment from such cities as Kansas City, Mo., and Toronto.
SEPTA officials, well aware of the problems of the ancient vehicles, have ordered 141 new trolleys for subway-surface routes. Two prototypes have arrived; the rest are expected by January. SEPTA officials also have begun, belatedly, to overhaul the trolleys that run on the streets.
That program, which has been delayed by a lack of parts, results in about one vehicle a month being rebuilt. Jonathan Klein, who joined SEPTA last spring as chief of rail maintenance, concedes that the process is painfully slow, and that the quality is less satisfactory than he would like.
His boss, SEPTA general manager David Gunn, was more blunt. At the speed it is going, said Gunn, the rebuilding program is having all the impact of a "fart in a windstorm."
Meanwhile, the problems mount. When a group of outraged bus riders took SEPTA to court in 1979, trying to force the authority to shut down or to improve the fleet's safety, union officials representing drivers and mechanics jumped in on the side of the riders. The union said that often trolleys were put on the streets in an unsafe condition because of pressures from supervisors to meet published schedules.
If a trolley has a major safety defect - broken brakes or headlights, for example - a driver is allowed to refuse to take it on the street. Given the lack of any state standards, SEPTA officials concede that they alone define safety hazards.
While SEPTA does impose standards on itself, it also can waive those standards if it chooses.
No outside agency monitors trolley accidents. Although federal agencies provide substantial funding for SEPTA, no oversight body has ever sought to review the safety records of trolleys.
The federal Urban Mass Transportation Administration is trying to establish for the first time a uniform, comprehensive system for reporting accidents. To that federal agency, too, SEPTA has argued against the inclusion of its total trolley accidents: "Given all the extra miles we drive on the street," said Fasy, "we would look like a disaster compared to anyone. The comparison just is not fair."
Elmer Hackett, SEPTA's superintendent of claims, said that the deteriorated condition of SEPTA's trolley fleet was a big part of the problem. "A lot of bad accidents occur because this is old equipment in poor condition," he said, "and you are liable to have parts, such as brakes, go out."
Joe Keener, the lawyer in charge of SEPTA's claims division, concedes that "some brakes were and are bad," but he said poor equipment is not the only problem facing trolleys.
Philadelphia is the only city left in America that still uses trolleys extensively on city streets. Drivers often will pass trolleys, Keener explained, and then cut in front and stop for red lights. Because the trolleys have steel wheels and less traction than automobiles, the trolleys cannot stop in time.
"The biggest problem we have is the trolleys," Keener said. "The only city with a worse record than our trolleys is San Francisco and its cable cars."
To a suggestion that cable cars attract tourism to San Francisco, Keener responded: "Our trolley lines bring back very little in return, other than a bad cervical spine."
"I was scared for my life every time I had to operate a trolley," said Tomczuk, the driver of Trolley No. 2582 that autumn day in 1979. "Every time I took a trolley out, I wondered what was going to go wrong."
Tomczuk became a trolley operator in 1978 because he was about to lose his federally sponsored job as a SEPTA vehicle cleaner.
He was working as a cleaner at the Frankford garage under the Comprehensive Employment and Training Act (CETA), and the funds were about to run out. Tomczuk got a layoff notice.
"I went in and asked for any kind of job," he remembered. "They said that because of my good record they would like to keep me, but the only openings they had were for rail (trolley) operators."
The first trolley Tomczuk ever drove was fresh from the shop. There should have been no problem; it had just undergone major repairs.
"I was driving down the street," he said, "and suddenly the entire control panel fell on my lap. Sparks were everywhere."
Tomczuk felt lightheaded, and thought that he had been shocked. He went to the hospital, but was told he had merely been severely frightened.
Weeks later, he was operating a trolley at Broad Street and Erie Avenue, Tomczuk said, when a passenger set fire to a seat. Tomczuk put out the fire, but the seat was smoldering and smoke had filled the car.
He went to a telephone and called the SEPTA radio room. He was advised to throw out the seat, roll down the windows and continue in service.
"It was unbelievable," he recalls. "People would get on and get right back off."
Tomczuk had a good record, with no "chargeable" or "preventable" accidents for 15 months - until he took out Trolley No. 2582, the trolley with unworkable sanders, that autumn day.
Tomczuk had been in trolley accidents before that one, but they had not been his fault. There was, for example, the crash of Jan. 18, 1979, records kept by SEPTA operators show, when trolley 2283 lost its brakes and hit a van as Tomczuk was driving. The records also show that the same trolley had been turned in earlier that day for brake problems.
However, after No. 2582 smashed into the bus on Oct. 26, 1979, he was given a three-day suspension for failing to prevent the crash.
Tomczuk remained off work for weeks, complaining of a back injury. While out, he said, he received notice from SEPTA superiors that one of his many requests for transfer to another job had come.
"I was told that they did not take it then, I would have quite a wait for another transfer," Tomczuk contended. So, though his back still hurt, he went to work at the Wyoming Avenue maintenance shop. "It beat getting back on a trolley."
Trolley driving, Tomczuk says, is a job he does not miss.
At the maintenance shop behind SEPTA's headquarters at Second Street and Wyoming Avenue, workers have been totally stripping old trolley cars, restoring them from the bottom up.
The total overhaul is essential. Earlier refurbishing efforts apparently dealt only with visible problems. Some repainted and reupholstered vehicles appeared fine on the surface, but workers discovered that the bodies of the cars were rotted, the insides a maze of decayed wiring and outdated controls.
The vehicles show the effects of years of neglect, of being held together in a makeshift fashion as parts have worn out, and new parts were not available.
Some new trolleys are on the way - within a year 139 are expected to arrive for the subway-surface routes, and for the suburban lines to Media and Sharon Hill. But the trolleys now being overhauled will continue to serve the streets in Germantown and South Philadelphia, along such routes as 23, stretching from South Philadelphia to Chestnut Hill, the longest North American trolley line.
"When you get down to this level," said Klein, the trolley maintenance supervisor, the run-down cars are "not simply a matter of a guy forgetting to inspect something. SEPTA's general overhaul programs," he added, "have been a little red, white and blue, a little Bondo, a little upholstery, and you've got a brand new trolley."
SEPTA could turn out "twice as many cars that would be pretty to sit in," said Klein. "That's not what we're after this time."
Still, the program is slow - one car rehabilitated a month - and there never are enough good vehicles. On some days last summer [1980] as many as 30 drivers who were supposed to be out on the streets could be found huddled outside the Luzerne Depot at rush hour, because there were not enough running vehicles for them to drive. "Most of us just want decent and working vehicles to take out, so we can do our job," said one operator. "But we can't even get that."
Behind the depot lies a line of cannibalized trolley cars that Klein refers to as "Jonathan Klein's Used Trolley Lot."
The overhaul program costs about $100,000 a car. By the end of last year, five cars had been renovated. All have been in accidents, Klein said, since coming out of the repair shop.
Even with the worst of SEPTA's trolleys out of service, those in service repeatedly break down. The average trolley breaks down once every 500 miles. Sometimes they have been involved in accidents while being towed off the streets after breakdowns.
Patricia Spates filed suit last year over a 1977 incident in which a Route 15 trolley slammed into her car, which was stopped at a red light at Girard Avenue and 33d Street. At the time, Trolley No. 2704, operated by Lawrence Buchanon, was being pushed back to the depot in heavy rain by a second trolley, after breaking down.
The operator of the second vehicle, Joseph Field, explained in his statement that because of the paint on the back window of No. 2704, and the rain, he could not see Buchanon signaling him to stop.
The horror stories abound. There was the case of Milton and Miriam Leshner, whose car, stopped at a light on Germantown Avenue at Southampton Street, in November 1977, was rammed in the rear by Trolley No. 2758, which was headed back to the depot after being taken out of service for bad brakes.
SEPTA's attorneys successfully argued before Common Pleas Court that the Leshners' lawsuit should be dismissed, because the Leshners did not sustain scars or have large medical bills or a lengthy period of disability, as the state's no-fault insurance law requires as a prerequisite to a lawsuit.
The case is before the Superior Court on appeal, the Leshners' attorney arguing that because trolleys are not motor vehicles under state law, SEPTA should not be allowed to use the no-fault law as a defense. And in any case, he argues, SEPTA should be held responsible because the authority's negligence led to the accident.
Last Nov. 18, a Route 34 trolley broke down on Baltimore Avenue. After the passengers left, a SEPTA supervisor arrived, got the vehicle moving, and told operator ED Day to take the empty vehicle back to the depot, Day said in an interview.
He traveled three blocks to the to of a hill and found he could not stop the vehicle. The car rolled down the hill to the end of the line at Cobbs Creek Parkway, jumped the track and ran into a tree. The right side of Trolley No. 2194 was ripped open.
Last June, Jon Knox was driving Trolley No. 2653 down Wayne Avenue along Route 53 one evening when suddenly the brakes went out.
"There was nothing I could do," Knox recalled, as the trolley slid down the hill. "There were a couple people on board, and I yelled to them to get down behind seats. And off we went." As No. 2653 whooshed down the hill, picking up speed, it passed two police officers talking to a store owner who had just been robbed. Knox yelled for help. The officers sped ahead, blocking off one after another of the intersections, as the trolley continued helplessly along.
SEPTA supervisor Robert Holmes heard of the trouble by radio and arrived in his truck as the trolley headed toward the bottom of the hill, where it could have left the track and run into storefronts.
Like former motorman Tomczuk, Holmes hit on an ingenious way to stop a runaway trolley: He parked his truck in its path.
"I put the truck in front of the rail," Holmes recalled, "and called out to the driver, "If this doesn't stop you, we're both bailing out.'"
Bailing out proved unnecessary, and no one was seriously hurt.
Whatever the problems of the past, general manager Gunn emphasizes that since he took office in August 1979, the policy has been clear enough: Unsafe vehicles are not to be used on the streets.
There is little assurance that his directions are always followed. Outside oversight of SEPTA's rail system does not exist - neither locally nor at the federal or state levels.
The National Transportation Safety Board has to date scrutinized only one accident involving SEPTA trolleys. That occurred one cold morning in January 1978.
Operator Lorraine Leso, who had only six weeks' experience - including one previous accident - was driving a 1948-model trolley along Route 36 from West Philadelphia to Center City. At 42d Street and Woodland Avenue, Leso said in a statement to SEPTA, a rider had asked her why there was no heat.
She replied in jest, "I had a choice between heat or brakes. I chose brakes," Leso said in her report.
When the trolley, packed with a standing load of passengers, got to 30th Street, Leso could not stop the trolley. A Route 11 trolley, with 70 passengers on board, was standing at the station.
Fifteen feet from the car in front, Leso reached down for the handle to throw the car into reverse, a practice recommended for emergency situations. But, she said in her statement, a passenger's leg was in the way.
Leso yelled for the passengers to hold tight as the trolleys collided. Fifty-seven persons were sent to hospitals.
SEPTA officials sought to fire Leso. They said tests showed that the trolley's braking systems worked properly. Her supervisor filed reports stating that Leso was guilty of "gross negligence in failing to have her car under control," and not properly slowing down at a yellow signal ahead of the station.
But Leso ultimately won back her job in arbitration after trolley operators testified on her behalf about the problems that plagued the vehicles.
And the records on the trolley she was driving - No. 2187 - did not hurt her case: SEPTA records showed that it had been reported for motor, brake and electric power trouble seven times in the three months preceding the accident. The day before the accident, SEPTA records show, No. 2187 had been reported having brake trouble.
Alex B. Barnes is more familiar than most SEPTA patrons with the cycle of unsafety.
Barnes was standing in the aisle of a Route 23 trolley on July 6, 1979, when the trolley, traveling on Germantown Avenue, rear-ended into a 1970 Buick stopped at the intersection of Germantown Avenue and Seymour Street.
In his report, trolley operator M. S. Hammel said he had been going slowly when he saw a red light ahead. "I applied brakes to slow down but brakes didn't take hold. So applied emergency brakes and they also didn't take hold."
The impact mashed the 1970 Buick into a 1977 Buick. One passenger of the 1970 Buick went to the hospital with back trouble.
Barnes filed suit, contending that he had suffered back and knee injuries and, in effect, that enough was enough. The same knee previously had been injured, according to the court's record of his medical history, when a car in which he was riding had been hit from behind by a SEPTA bus.
---
The above article appeared in the April 20, 1981 issue of the Philadelphia Inquirer.
A more balanced report might have compared the accident rate of SEPTA trolleys with that of the SEPTA diesel bus fleet. During the late 1970's, neither mode was especially safe or reliable.
Those who believed in the benefits of trolley service urged that the streetcars be better maintained, and recommended that the streetcar system be saved if not expanded. SEPTA's solution was to run the trolley system in to the ground, and then simply replace it with diesel buses.
Thus, since the 1980's, Philadelphia has lost trolley routes 6, 53, 50 and 60, and lost Luzerne and Callowhill trolley depots. Since 1992, trolley routes 15, 23 and 56 remain "temporary bus" routes despite sporadic attempts by SEPTA to legally change their status to "permanent bus."
Pressure from the City of Philadelphia, and from community groups, has convinced SEPTA to plan for the restoration of trolley service on Route 15, and for the rehabilitation of part of Callowhill Depot to house streetcars again.
Watch this space for updates...
---

Return to Philadelphia Trolley Tracks.