Philadelphia Trolley Tracks:
Norristown Trolley Map

This map shows trolley lines in and around Norristown.
Blue lines are trolley tracks of the Reading Transit & Light Co. (Schuylkill Valley Traction Co.), abandoned in 1933.
Red line is the trolley track of the Lehigh Valley Transit Company, abandoned in 1951.
Green line is Philadelphia & Western Railway, now SEPTA Norristown High Speed Line.
Click on the map to view a high-resolution (vector-based) pdf.

map by Mike Szilagyi

Return to Schuylkill Valley Transit article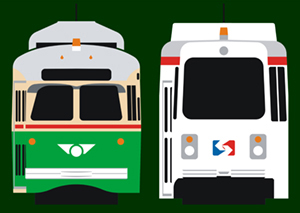 Return to Philadelphia Trolley Tracks main page.