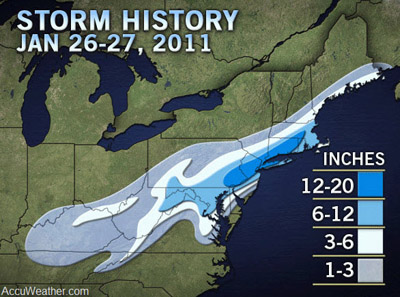 Snow was forecast for Philadelphia for Wednesday, January 26, 2011. At 6:00 p.m. it was raining heavily -- a downpour really -- and it seemed as if the forecast may have been in error. Philadelphia is only fifty miles from the Atlantic Ocean and very often in a winter storm an east wind brings temperatures up just enough to bring rain instead of snow.
The change-over to snow came suddenly, with absolutely no let-up in the precipitation rate. Snow at a rate of two for four inches per hour accumulated on streets immediately, instantly freezing the wet pavements. With rush hour just winding down, the rapidly accumulating snow was packed down by motor vehicle traffic before it could be cleared by plows. Thunder and lightning accompanied the heavy snow, a rare phenomenon in these parts. The city officially received 14 inches of snow; nearby Chester County 20 inches.
In the early morning hours of Thursday January 27, 2011 Simon Skymba photographed these seven trolleys stuck on Girard Avenue over four blocks, east and west of the intersection of Girard Avenue and Ridge Avenue. These six PCC-II cars and one LRV were left stranded, but the bus fleet fared even worse. SEPTA spokeswoman Heather Redfern reported about SEPTA passengers: "Some of them spent overnight on the buses and we have 40 buses out there." Other sources put the number of transit vehicles stranded on city streets at 150. Recovery was slow. Due to sub-freezing temperatures for several days afterwards, the packed snow -- now compressed to slick ice -- clung to the streets like iron and could not be removed by plows. It took the better part of a week for the transit system to finally return to normal.
Photos by Simon Skymba - used with permission.
More of Simon Skymba's photographs can be viewed here: Railroad Picture Archives