Trolley Route 47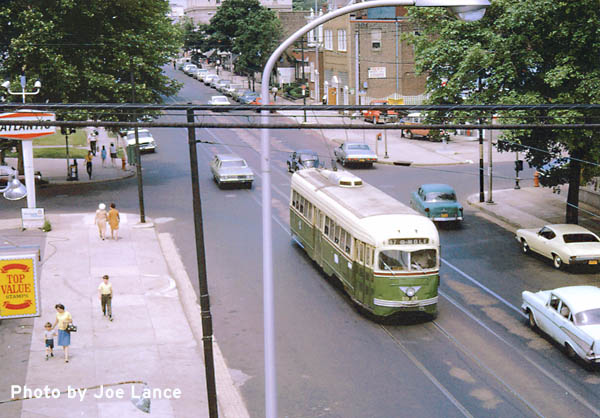 1940 PCC 2067 rolls southbound on 5th St. near Somerville Avenue in Olney. Joe Lance captured this view, from the vantage point of a railroad overpass in June, 1969.
Last Days of the 47 Trolley
After the late 1950s takeover by GM and National City Lines -- with its wholesale conversion of most of Philadelphia's trolley system to diesel buses -- twelve trolley routes remained in the city, served by a large fleet of PCC cars.
Three of the twelve surviving lines were long, north-south lines that ran through center city on separate one-way streets, east of Broad Street. Route 50 occupied 4th and 5th Streets, Route 23 ran on 11th and 12th, and Route 47 operated on 8th and 9th Streets.
Route 47 started on Wolf Street in South Philadelphia, ran north on 9th past the crowded sidewalk stalls of the Italian Market, through Center City and North Philadelphia, ending at 5th St. and Godfrey Avenue in the Olney section of the city.
In July 1967, construction of the PATCO high-speed line under 8th Street in Center City forced PTC to substitute diesel buses on the southern portion of the Route 47. PCC cars continued to serve the line from Spring Garden Street, north.
After two years, however, rather than replace the rail, the new transit authority, SEPTA, withdrew streetcars from the entire Route 47. On June 15, 1969, 1942 PCC 2653 was the last trolley to run on Route 47, and the line became just another bus route.
More, in-depth information about the factors that went into SEPTA's decision to replace the Route 47 with diesel buses, can be found in these two articles that appeared on the Yahoo discussion group Phillytraction: Route 47, Chapter 1 and Route 47, Chapter 2 These articles are also reprinted below (scroll to bottom of this page).
Below, are two schedules, from that interim period when Route 47 was split north and south, between streetcars and buses. Thanks to Bill Robb, for scans of the schedules.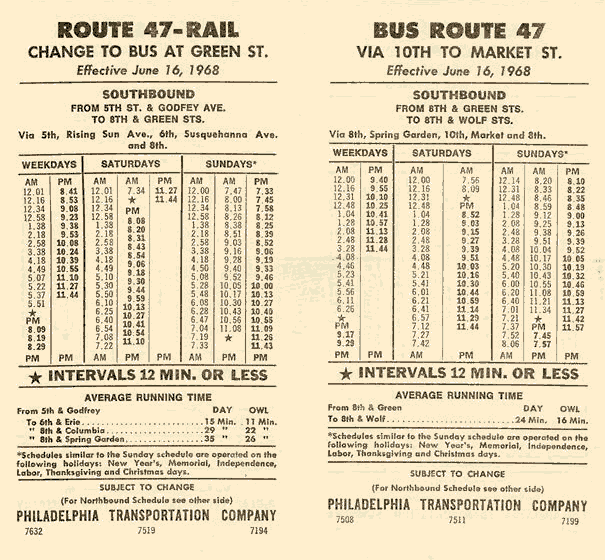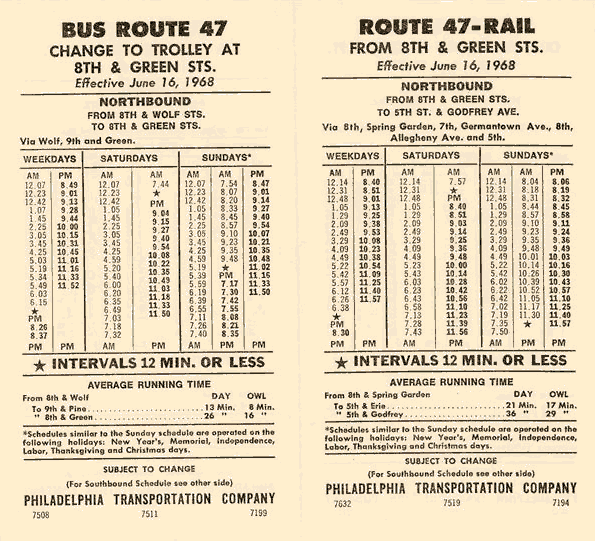 Dave Horwitz has this to say about the reasons for the demise of Route 47:
"The 1967 conversion really was necessary because a new terminal for the Broad - Ridge Spur, physically separated from the coming Lindenwold line, had to be built. Just go down there now and look at the present configuration and you can see the construction work that was necessarily involved. This required the closing and excavating of 8th St. from just north of Filbert to Market St. for some time. All this occurred under the aegis of PTC.

"The 1969 abandonment though of the rest of the 47 was NOT due to a car shortage. Ample cars existed to 'meet the line' even though Luzerne maintenance had grown slovenly, and the barn was again dominated by air cars that had had no major mechanical work since before NCL in many cases, so that serious physical work, mini rehabs if you will, would have been necessary to restore the 47 completely back to rail when 8th St. construction was finished in 1969.

"What was not even mentioned at the time was that major track renewal was needed on the 47 and by then though it was SEPTA, it was (is?) still the NCL/PTC mindset. You know the mindset well. But anyone here who remembers riding the 47 remembers 7th St. between Spring Garden and Susquehanna, 8th St. between Gtn. Av. and Allegheny Av. as just two examples of track that was just shot. There were many other pieces south of Spring Garden on 8th & 9th Sts. in need of renewal too.

"Looming in the near future was also a necessary permanent rerouting of the 47 even if full rail service was restored. 9th St. at Vine was already marked to be wiped out to build the Vine Expressway. Yes of course there was an easy way to keep the line running with the installation/resurrection of 1000' of rail going west on Arch from 9th to 11th, then up 11th to Spring Garden, returning to its' route via Spring Garden. But we're back to that mindset again.

"There were hearings; it was all quite above board, unlike the 'temporary' nonsense that they used so often so successfully in abandoning other routes. Sad to say, but this ain't SF. There was no opposition to the conversion; in fact, the extension of the line from Wolf St. to Oregon Av. was initially viewed with enthusiasm. To cite one reason alone, Wolf St. was one way east except for the one block from 8th to 9th where the 47 went west. Even in 1969, this would create a block of parking and in south philly, that's never a bad thing. Notice that even today, charters or holiday trolleys do not attempt to go south of Snyder on the 23 because of the parking. This has to be the only city in the world where illegal parking trumps public transit operation! But I digress..."
... and about the last runs on Route 47:
"From 8 & Spring Garden south, July 9, 1967 with car 2132 performing the dubious honors.

"For the northern section, the finale was Sunday, June 15, 1969 with car 2653 (another car change close to the end here too, as 2553 died) and operated by R. D. Vible. Quite surprisingly, The Cox route book has a wrong date on this conversion. I rode both with Mr. Vible and any of you who know R. D. Vible know that he kept a daily journal listing every car he ever operated and anything special about that day's work."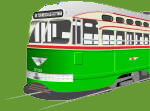 Return to Philadelphia Trolley Tracks main page