---
The following article appeared in the August 1996 edition of the newsletter of the Philadelphia Trolley Coalition.
---
Philadelphia PCCs Alive and Well in San Francisco
By Mike Szilagyi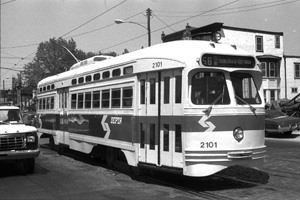 It's now been four years since SEPTA ended streetcar service on transit routes that utilized Philadelphia's familiar, streamlined PCC trolleys. These routes included the 23, which ran on Germantown Avenue from Chestnut Hill to South Philadelphia; the 56, which ran from the Northeast and along Erie Avenue; and the 15, which ran on Girard Avenue, past the Philadelphia Zoo to Port Richmond. And just this year, service has also been cancelled on two special routes: the Chestnut Hill Trolley, and the Center City Welcome Line. SEPTA claims that the cost of maintaining PCC cars makes them too expensive to operate, despite the fact that all of these trolleys had been completely overhauled during the 1980's.
After SEPTA retired all these rebuilt PCC cars and put them into storage, an interesting thing happened. Other transit operations all over the country started buying our trolleys for use on tracks in their cities. New Orleans, Colorado Springs, and most notably San Francisco California have all bought PCC trolleys from SEPTA. San Francisco's purchase of twenty Philadelphia PCCs is the most ambitious project of these, so far.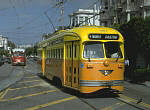 San Francisco's Municipal Railway, or Muni, bought a fleet of our trolleys at the bargain basement price of $12,000 each, and had them completely rebuilt at a cost of about $460,000 apiece. Keep in mind that new streetcars cost in the neighborhood of $1.5 to $2 million each. They are currently in use on San Francisco Muni's F line on Market Street, which stretches from the Financial District, through downtown to the Castro. I recently had an opportunity to ride and photograph the cars, and talk with both passengers and operators. By all accounts, the rebuilt Philadelphia cars are an unqualified success. During rush hour the cars are filled to capacity, with all fifty seats occupied and easily fifty more passengers jamming the aisles.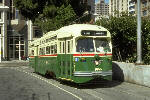 Traffic, especially during evening rush hour, is a problem on Market Street, with the PCCs fighting for space along with trucks, autos, many diesel and electric buses, as well as mopeds, pedestrians, and roller bladers. There is no lane reserved on Market Street for transit. In fact the traffic is so heavy that more than one operator I spoke to indicated that they intend to seek a job transfer to other trolley lines that enter downtown via the Muni Metro under Market Street (just as SEPTA's Subway Surface cars do in this city). While the trolleys that use the Muni Metro subway are much faster than the streetcars above ground, many riders prefer to stay above ground and ride the PCCs. The 20-year old Boeing-Vertol LRVs used in the subway are breakdown-prone, and the interior plastic used in those trolleys is deteriorated and dirty. A new fleet of high-tech Italian-built light rail cars is just now arriving to displace the notorious Boeing cars. Initial reports indicate that although the new cars accelerate quickly, their top speed is less than the Boeing cars' 55 mph.
Most folks using the F line trolleys don't know that the cars they're riding in are from Philadelphia. When I would mention to operators, or riders, that these trolleys are from my home town of Philadelphia, I often heard "Well, you can't have them back. We love them." Then, I would have to explain the fact that in Philadelphia, and in this state for that matter, not enough people cared to save them. Ironically, I was in San Francisco on June 15, and had to explain that not only has SEPTA scrapped and sold hundreds of trolleys in recent years, but that very day was the final day of service for the last two PCCs still in use in our fair city, in Chestnut Hill. So thanks to an unfortunate combination of shortsighted decisions and budget cuts, our loss is San Francisco's gain. Having ridden the cars and talked to San Franciscans about them, I have the small consolation of knowing that our trolleys have at least found a good home.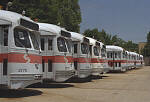 While many of Philadelphia's original PCC trolleys have been sold, a large number are still in the city, stored by SEPTA. It is the hope of the Philadelphia Trolley Coalition that the remaining cars can be returned to service here in their home town. Presently three trolley routes, the 23, 15, and 56, have been "temporarily" replaced with diesel buses. Recently two more lines, the Center City Welcome Loop and the Chestnut Hill Trolley, have also been discontinued. The tracks and wires remain in place, waiting for a new fleet of expensive rail cars that, given the political climate, might never arrive. San Francisco's experience has shown that our old PCC trolleys are still a viable way to move passengers, not just a nostalgic curiosity. Maybe the trolleys SEPTA needs to restore service on these lines have been right here, all along.

---
Captions for the above photos, from top to bottom:
When PCC 2101 was delivered to Philadelphia in 1948, it was assigned to the Route 6, from Olney to Willow Grove Park. Later, it served the Route 56 on Erie and Torresdale Avenues. Freshly overhauled PCC 2101, in 1981. photo © Mike Szilagyi
Ex-Philadelphia PCCs lay over at Castro in San Francisco. Each car in the MUNI fleet is painted for a different city. No. 1052 represents the Los Angeles Railway; no. 1061 Pacific Electric. June 1996 photo © Mike Szilagyi
This ex-Philadelphia PCC was restored to its PTC green and cream by MUNI. No. 1055 at the financial district end of the line, the Transbay Terminal. June 1996 photo © Mike Szilagyi
While many of SEPTA's PCCs have been sold to other cities, a large number remain in the city. These are stored off the rails at Germantown depot. May 1996 photo © Mike Szilagyi
Roster: Muni's Philadelphia PCC Cars


Return to the main menu.