---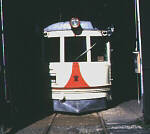 Liberty Bell High-Speed Line
---
Click on photos and maps to view higher resolution images.
Norristown's trolley service was provided by two systems: the Schuylkill Valley Transit Company, which ended trolley service in 1933, and the Lehigh Valley Transit Company, whose Liberty Bell Route served the borough from 1912 through 1951.
Follow this link to view an interactive Google Map of the LVT Liberty Bell High Speed Line between Norristown and Allentown.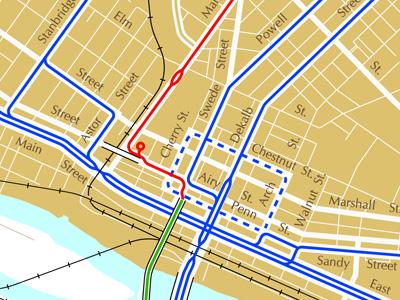 In the map at left, the red line represents the Lehigh Valley Transit Company's tracks in Norristown.
The Lehigh Valley Transit Company provided trolley service from Philadelphia, through Norristown to Allentown, PA from 1912 to September of 1951. Riders boarded Liberty Bell cars at the P&W Railway's elevated station at Main and Swede Streets. LVT trolleys bound for Philadelphia operated over the the P&W (now SEPTA) high-speed line to Upper Darby, where patrons transferred to Market Frankford El trains. LVT trolleys bound for points north followed tracks on Airy and Markley Streets in Norristown, to just north of Johnson Highway and Swede Road, where the rails curved off to the right to run on high-speed right-of-way. The Liberty Bell followed this pattern through Lansdale, Souderton, Sellersville, Quakertown, and Allentown: it ran like a local streetcar through the towns, and like a high-speed railroad between towns. In regular service, trolleys attained speeds of 60, 70, and (when behind schedule and trying to make up time) 80 mph.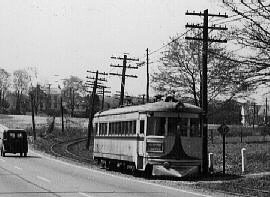 In this February 1949 view, a northbound Liberty Bell Limited trolley curves from high-speed right-of-way to run up the shoulder of Dekalb Pike (U.S. 202) just north of Germantown Pike in East Norriton Township. Trolleys ran both directions on one track, on the side of the road, in all weather, and at night. By the late 1940's, early 1950's, deferred maintenance meant that the rails were often hidden by grass, mowed only by the frequent passage of both passenger and freight trolleys. No, that's not a breakdown lane, that headlight is an oncoming high-speed trolley, coming up the wrong side of the road. Imagine today's suburban traffic having to contend with that. Today, a McDonald's occupies the ground just behind the trolley in this photo. In July 1942 a head-on collision between two trolleys at this location killed a trolley motorman and eleven passengers.



This February 1951 photo finds LVT no. 1008 in Norristown, turning from southbound Markley Street to eastbound Airy Street, photographed from a vantage point under the Airy Street bridge. These were the last months of service and the equipment was no longer well maintained. The shabby building to the right was LVT's freight station at Rink Siding. This is where Liberty Bell Limited cars were turned around for the return trip to Allentown. One reason for the rough condition of Markley Street today is the Liberty Bell route's old wooden railroad ties, now rotting under the pavement. (Update 2015: PennDOT is now in the process of tearing out Markley Street and building a completely new road.)



Liberty Bell Limited service between 1939 and 1951 was provided by twelve high-speed cars originally built in 1930 for the Cincinatti and Lake Erie Railroad in Ohio, and one similar car built for the Indiana Railroad. These cars were mechanically identical to the Philadelphia & Western's Bullet Cars, but with more conventional carbodies. In Ohio they were dubbed "Red Devils," and like the Bullets, they were capable of speed approaching 100 mph. They shared the Liberty Bell line with older, railroad-style passenger cars, several types of newer suburban trolleys, and two- and three-car freight trains consisting of rebuilt passenger trolleys. During the line's later years (late 1940s early 50s) as the newer high-speed cars failed, older trolleys built in 1912 and in 1916 were pressed into everyday service.
Liberty Bell's ex-Indiana Railroad no. 1030 at Seashore Trolley Museum in Kennebunkport, Maine. 1979 Photo © Mike Szilagyi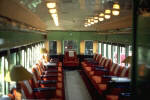 Only one of the Libery Bell high-speed line cars was saved. In 1952, the ex-Indiana Railroad no. 1030 was saved from the scrapper's torch and taken to the Seashore Trolley Museum in Kennebunkport, Maine. This car was fitted as a deluxe "chair car." This is not the sort of interior one finds on a SEPTA bus. Long forgotten today, in the 1920s and 1930s transit companies made a concerted effort to attract riders.
Liberty Bell Limited car 1030. September 7, 1979 photo © Mike Szilagyi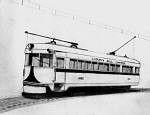 Since the abandonment of the Liberty Bell happened relatively recently, there are many places where the right-of-way is still visible. Philadelphia Electric owns some of it, such as the line from Swede Road and Johnson Highway north to Germantown Pike, behind Sears Hardware. The old substation building on the southwest corner of Township Line Road and Dekalb Pike (U.S. 202) survives. More right-of-way on the west side of 202, extending across Skippack Pike and then on up to Lansdale is visible. Tentative plans call for a multi-use (hiking and biking) trail on the Liberty Bell high speed line right-of-way.


---

Return to the main menu.