Philadelphia Transportation Company 1952 10-Year Plan
- Of 48 trolley lines, only 14 would remain as trolleys -
Even before National City Lines management decimated most of Philadelphia's trolley system in the mid-1950s, PTC had drawn up plans to replace most of its trolleys with a combination of electric and gasoline-powered buses.
A PTC planning document dated July 25, 1952 outlined a ten-year program that would replace the majority of Philadelphia's electric trolley lines with trolley buses (trackless trolleys) and a small fleet of gasoline powered buses.
If the plan had been carried out, of 48 trolley lines in operation in 1952:
21 would be replaced with trackless trolleys
6 would be replaced with motor buses
7 would be abandoned altogether
Only 14 would remain as trolley lines
Note that the numbers do not add up to 48 because some lines are split up while others are combined. Please refer to table below.
Ultimately this is not the plan that was carried out. National City Lines management, beginning in 1955, replaced trolley lines with General Motors diesel buses -- not electric trackless trolleys. (There were only two exceptions to this: Route 66 Frankford Avenue became a trackless trolley line because that deal had already been set in motion before the NCL takeover, and Route 79 Snyder Avenue became a trackless trolley line in order to utilize relatively new trackless trolleys freed up by the dieselization of trackless trolley line 61. In both instances, the City of Philadelphia was adamant that electric vehicles provide service, rather than diesel powered.)
Details of the 1952 plan are intriguing. It's hard to understand why heavily travelled Route 15 Girard Avenue (which continues as an electric streetcar line today) was to be converted from trolley to trackless trolley. Conversely, Route 46, which utilized 1920s-era double-end trolleys on 58th and 60th Streets in West Philadelphia, was one of the few lines that was supposed to retain trolley service. Short Route 62 in Darby, which today sees trolley service as a rush-hour extension of Route 13, was supposed to be one of just six lines converted to motor bus.
Ultimately, National City Lines plans for the system differed from this earlier plan mainly in that trolleys would be replaced not with trackless trolleys, but with diesel buses (built by General Motors, of course). The 1958 abandonment of the Route 6 suburban trolley through Glenside to Willow Grove was the last vandalism carried out by National City Lines. Things stabilized for a decade, with trolley abandonments resuming only after Southeastern Pennsylvania Transportation Authority (SEPTA) took over PTC in 1968.
View the table in pdf format by following this link.

Scans of the original four-page PTC document can be viewed by following this link.
Philadelphia Transportation Company
REHABILITATION PROGRAM
10 Years - 1952 to 1962
Suggested Changes in Existing Surface Rail Lines
[ derived from PTC document dated July 25, 1952 ]

 

 

Recommendation
Trolley Route No.
Description
Continue as Trolley
Replace with Trackless Trolley
Replace with Motor Bus
Abandon
2
15th & 16th
(move to 16th & 17th Sts.)
3
Frankford-Columbia
(split into two routes: trolley on Columbia Ave, trackless trolley on Frankford Ave)
5
2nd & 3rd
6
Glenside
(trolley from Olney to Cheltenham Ave.; motor bus from Cheltenham Ave. to Willow Grove)
7
Strawberry 22nd & 23rd
8
Dauphin & Susquehanna
(combine with Route 39)
9
Strawberry 4th & 5th
(combine with Route 48)
10
Lancaster - Subway
11
Woodland - Subway
12
Grays Ferry
(shorten to only 49th & Woodland, then Grays Ferry, 22nd and 23rd to 6th & Market)
13
Chester Ave
15
Girard
17
South 19th & 20th
18
South 22nd & 23rd
20
12th & 13th
(replace with Route 23)
21
North 11th & 18th
23
Germantown 10th & 11th
(move to 11th & 12th Sts.)
26
Olney Ave
31
70th & Lansdowne - Subway
32
South 17th & 18th
33
North 22nd
(move from Arch St. to Market St.)
34
Baltimore - Subway
36
Elmwood
37
Elmwood - Subway
38
Baring - Subway
39
Dauphin & Susquehanna
(combine with Route 8)
40
Lombard & South
41
63rd St
(replace with Routes 31 and 46)
42
West Spruce
43
Spring Garden
46
58th & 60th
47
Olney 8th & 9th
48
Fairmount-Arch
(combine with Route 9)
50
Lawndale 4th & 5th
52
Chelten Ave
53
Wayne Ave
(combine with Route 75)
54
Lehigh Ave
56
Erie-Torresdale
57
Jefferson & Master
60
Allegheny Ave
62
Chester Ave Extension
63
Catharine & Bainbridge
64
Federal & Wharton
65
York Road 6th & 7th
66
Holmesburg
70
52nd St
79
Snyder-Navy Yard
(replace with Routes C and 81)
81
Snyder-Passyunk
ZMS - July 30, 2014
<![if supportMisalignedColumns]> <![endif]>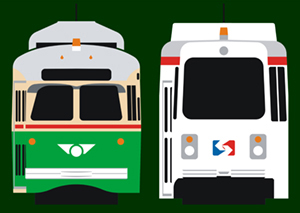 Return to Philadelphia Trolley Tracks main page.